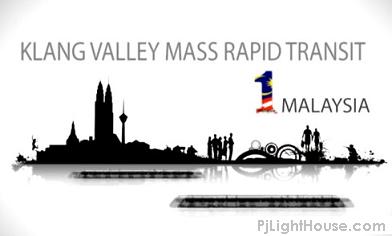 Klang Valley Mass Rapid Transit or KVMRT is an upcoming MRT line in Greater KL (Kuala Lumpur). The purpose of the line is to reduce congestion in KL. There is high demand of rail network in Kajang, Klang Valley, Cheras, Damansara (both KL and Selangor), Kepong, Serdang, Setiawangsa and KL itself.
The project started as a suggestion in the 10 Malaysia Project. Malaysian Prime Minister Najib Razak insist the KL goverment to study the future Greater KL plan. KL looks big in the Greater KL plan so it is perfect to build an MRT line in it. So the goverment call the MRT plan: The Greater KL MRT. But Najib Razak fine the name a little bit akward (not akward to me) so they rename it to Klang Valley Mass Rapid Transit. Gamuda BHD and MMC Coporation BHD joint to handle the project. Syarikat Prasarana SDN BHD or Prasarana is assigning RapidKL to operate the MRT line (more like your secondary school teacher give you a holiday homework).
There are 3 MRT lines. Line 1 starts from Sungei Buloh to Kajang. Line 2 is known as the Circle Line. Like the London Underground Circle Line, the trains go round the line without stopping. This line is the most important bacause it goes around Downtown KL. Line 3 is a branch line from Line 1 and it starts from KL Sentral to Port Klang. Line 1 and 2 is already shown to the public from March 2011.
KVMRT is expected to be completed by 2018. The KVMRT if operate will be about 150km (93.2miles) can compete with Singapore's (my country's) MRT system until 2013 onwards due to new MRT lines completed (lucky! I thought KL can overtake us! As usual, Singapore is the best although I sometimes prefer KL's rail system).
Comparing MRT lines with KVMRT (including upcoming MRT lines)
Manila MRT 16.95km
Bangkok MRT 27km
Kaoshiung MRT 45km
Taipei MRT 110.1km
MRT Jakarta 130.4km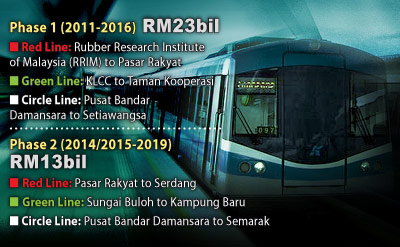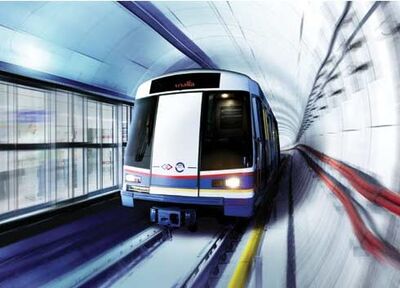 thumb|500px|right|KVMRT Line 1
Singapore MRT 148.9km
KVMRT 150km